German Cancer Research Center (DKFZ)
Links:
Contact:
Dr. Stefanie Seltmann
DKFZ
Im Neuenheimer Feld 280
69120 Heidelberg
Germany
Phone
+49 (0)6221 / 42-2854
e-mail
s.seltmann@dkfz.de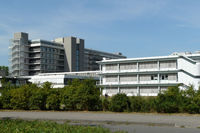 Cancer, with over 450,000 new cases diagnosed and 270,000 deaths each year, is one of the most dreaded diseases and the second most frequent cause of death in Germany. More than almost any other disease, cancer poses tremendous challenges for research and clinical practice. Practically every organ can be affected, every type of cancer has its own rules, and the underlying changes in affected cells are extremely complex. In order to develop novel, more effective methods of diagnosis and treatment, we first need to understand the basic mechanisms of cancer. In recent years, researchers at the German Cancer Research Center in Heidelberg have achieved major advances both in basic research and in the development of novel methods for clinical application. This has received special recognition in 2008, when Professor Harald zur Hausen was awarded the Nobel Prize for Medicine for his outstanding scientific contribution to the study of human papillomaviruses (HPV).

The German Cancer Research Center (Deutsches Krebsforschungszentrum, DKFZ) is the largest biomedical research institute in Germany and is a member of the Helmholtz Association of National Research Centers. More than 2,000 staff members, including 850 scientists, are investigating the mechanisms of cancer and are working to identify cancer risk factors. They provide the foundations for developing novel approaches in the prevention, diagnosis, and treatment of cancer. In addition, the staff of the Cancer Information Service (KID) offers information about the widespread disease of cancer for patients, their families, and the general public. The Center is funded by the German Federal Ministry of Education and Research (90%) and the State of Baden-Württemberg (10%).
Your Internship at the DKFZ
Several research topics are covered by research groups at the German Cancer Research Center and include topics in:
Molecular biology
Immunology
Epidemiology
Genomics and Epigenomics
Biophysics
Virology
Radiooncology
You will find more and detailed information on the individual research areas on our website (http://www.dkfz.de).
Other Research Institutes