Centre for Molecular Biology of the University of Heidelberg (ZMBH)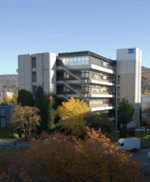 Within the life science faculties of the University of Heidelberg, the ZMBH (Zentrum für Molekulare Biologie der Universität Heidelberg) is a center of excellence for both research and higher education in basic and biomedical molecular biology.
Our research aims at fundamental questions of molecular and cellular biology at the level of molecules, cells and organisms. We would like to understand the mechanistic principles of different stages in life cycle of biological entities, addressing questions of biogenesis and development, stability and quality control as well as ageing, degeneration and the molecular basis of disease of biological systems.
A plethora of model systems including bacteria, yeast, trypanosomes, drosophila, xenopus and mammals are studied here. These, together with a broad range of multidisciplinary approaches, ranging from biophysics and biochemistry to cell biology, molecular biology and genetics, provide a rich and diverse scientific environment.
YOUR INTERNSHIP AT THE ZMBH
A variety of different research topics are represented at the ZMBH, among them are:
the cell cycle in particular mitosis
biogenesis of polypeptides
stability and quality control of biosystems
gene expression and epigenetic regulation
Please check out the ZMBH homepage. If you are interested in a particular group or topic, please notify us (write to o.gruss@zmbh.uni-heidelberg.de) in advance and we will try to match your interest! We are looking forward to host you at our institute!
Other Research Institutes