European Molecular Biology Laboratory (EMBL)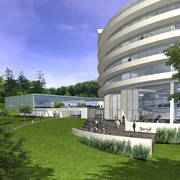 The European Molecular Biology Laboratory (EMBL) is Europe's flagship laboratory for the life sciences, with more than 80 independent research groups covering the spectrum of molecular biology. EMBL is international, innovative and interdisciplinary – its more than 1700 international employees operate across five sites: the main laboratory in Heidelberg, and the EMBL outstations in Grenoble; Hamburg; Hinxton, near Cambridge (the European Bioinformatics Institute), and Monterotondo, near Rome. Founded in 1974, EMBL is an inter-governmental organisation funded by public research monies from its member states. The cornerstones of EMBL's mission are: to perform basic research in molecular biology; to train scientists, students and visitors at all levels; to offer vital services to scientists in the member states; to develop new instruments and methods in the life sciences and actively engage in technology transfer activities, and to integrate European life science research. The EMBL International PhD Programme has a student body of about 190, and together with more than 250 Postdoctoral fellows across all EMBL sites constitutes a central element of the scientific life at EMBL.
Additionally, the Laboratory offers a platform for dialogue with the general public through various science communication activities such as lecture series, visitor programmes and the dissemination of scientific achievements.
The Laboratory runs a very active science education facility – the European Learning Laboratory for the Life Sciences (ELLS). ELLS has been created to bring secondary school teachers and students into the research lab. Exciting hands-on encounters with state-of-the-art molecular biology techniques help bridge the gap between research and schools. As an integral part of the EMBL, ELLS is located in the unique environment of one of the world's most renowned research institutions. The EMBL has an international staff of young, energetic scientists, and is in the unique position to connect scientific expertise directly with educational outreach activities.
Through its multifaceted training activities – such as LearningLABs, ELLS Webinars and Science Chats, the EMBL Insight Lectures series, the TeachingBASE and networking opportunities such as the web portal EMBLog – ELLS provides high school science teachers with the hands-on expertise and theoretical know-how to bring concepts of molecular biology into the classroom.
For more information please visit the ELLS website at www.embl.org/ells
Your Internship at EMBL
Staff of the ELLS are regularly guiding the ISH students through a multi-day programme to show them cutting-edge science in the making.
The student groups are offered the opportunity to join top scientists in
hands-on practicals, wet-lab experiments and bioinformatics activities;
scientific seminars;
exclusive visits to a variety of EMBL Core Facilities and labs;
discussions about current scientific topics;
educational games;
and much more...
Other Research Institutes